Products
Artisan G.SHDSL & EFM Tester
G.SHDSL & EFM Tester Key Features
7" Inch colour touch screen display
One button easy to use automatic test script – Test SHDSL layer through to IP layer & beyond
2 wire and 4 wire bonding mode supported
Ethernet in the first Mile ( EFM) and ATM lines are supported.
Able to operate at both end of the line ( client and server modes)
Stores over 1000 Test reports
built in email client for sending test reports, collecting next job details etc.







Call us to find out more:

+44 (0)1923 750013

Visit Our Online Store to buy now:
Overview
The Artisan G.SHDSL & EFM handheld tester can test 2 wire and 4 wire SHDSL and EFM lines. Data rates up to 11400kbps are supported with clear SHDSL Pass / Fail indications.
Configuring the SHDSL interface is simplicity itself.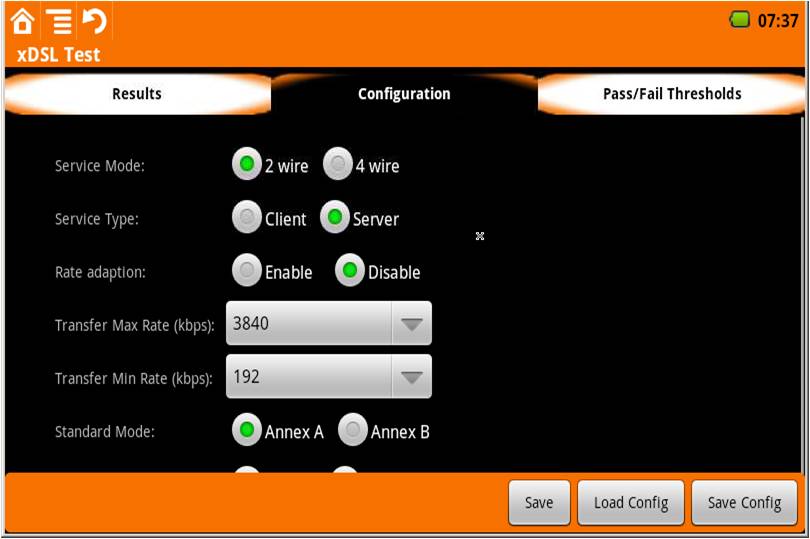 IP layer testing is provided with HTTP. Ping and FTP Tests.
The one button auto test keeps the test process consistent and easy.
Display


7" Colour Touchscreen 800 x 480 WVGA

G.SHDSL and EFM details :


ITU-T G991.2 / G.994.1 standards
Support ITU-T G.998.1 (G.bond)
Support IPOA / IPOE
TC-PAM line modulation
Configurable as either server or client mode
EFM / ATM auto detect
IEEE 802.3 2Base-TL (aka 802.3ah) compliant
Rate negotiating / manually rate adaptation
2-wire and 4-wire mode auto detect in either ATM mode and EFM mode.
Data rate selections: From 192 kbps to 5700 kbps (2-wire mode)
Data rate selections: From 192 kbps to 11400 kbps (4-wire mode)
Support bonding based on EFM and SHDSL with ATM

ATM Support


Multiple protocols over AAL5 (RFC1483)
PPP over ATM (RFC 2364)
ATM AAL5 supported

EFM Support


EFM mode compliant to IEEE 802.3, G.998.2
PPP over Ethernet (RFC2516)

Physical Interfaces


10 / 100 Ethernet, RJ45
ADSL / V208DSL, RJ11
USB Memory Interface

Test Configuration Profiles:


Over 100

Test Reports


1000 Test Reports stored automatically at end of test.
Output Format: PDF or XML

Battery


Lithium Polymer, 34 W/H, 7.2V

Encapsulation Protocols


RFC2684 (IPoA & IPoE)
RFC1577 CLASSIC IP over ATM (CLIP)
RFC2364 (PPPoA)
RFC2516 (PPPoE)
VLAN


PPP0E Decoder


Protocol Decode of PPPoE WAN Service activation with Pass / Fail Indications


IP Layer Tests
Ping Test:


IP and DNS Name
Test to :




HTTP Test:


IP Address or DNS Name
Determine Download Rate
Display Web Page

FTP Test


Determine Download FTP download Rate

Automatic Test Script Includes


G.SHDLS / EFM Service Activation
WAN Service Activation Test
IP Ping Test
HTTP Test
FTP Test

Weight


1.23KG

Temperature Range


Operating 0 °C to +45°C Storage -10 °C to +60 °

Dimensions


Height: 157 mm
Width: 208 mm
Depth: 54 mm